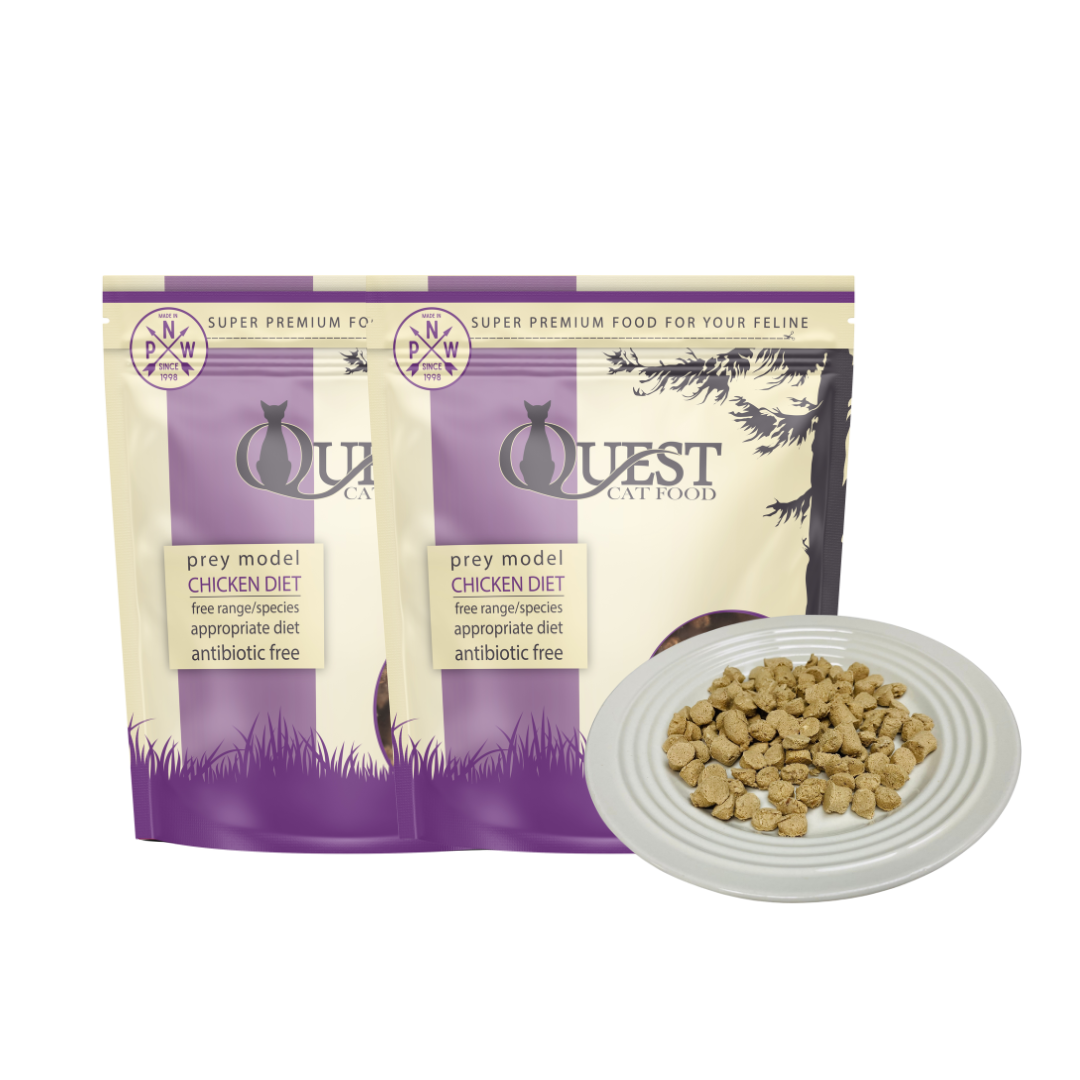 Freeze-Dried Raw Cat Food: Chicken Diet (2 Pack)
PRODUCT DETAILS
Order 2 or more 2-packs of freeze-dried cat food and get FREE shipping! Add the food to a subscription for auto-delivery, and SAVE 10% off every order!
Quest Cat Food is a Prey model diet by Steve's Real Food consisting of 95% meat, bone, and organ. We add a few super-foods to round off the diet and make it the purrrfect food for your feline. We form the food into smaller bite-size nuggets that make it easier for cats to dive into a bowl of fresh food. We use lean, low-fat muscle meat that provides high levels of zinc and copper--two nutrients that work together to support metabolism.  Steve's Real Food chicken recipe is a freeze-dried raw cat food formulated to exceed the nutritional levels established by AAFCO Cat Food Nutrient Profiles for All Life Stages.
Our complete and balanced chicken diet for cats is made from cage-free, free-range poultry.
INGREDIENTS

Chicken, Chicken Liver, Chicken Heart, Chicken Necks, Raw Goat Milk, Flaxseed, Kelp, Salmon Oil, Taurine, Inulin, Organic Coconut Oil, Chia Seeds, Sesame Seeds, Eggshell Membrane
NUTRITIONAL FAST FACTS

Calories: 199 (Kcal/ 8 oz cup)

PREY Formulation: 95% meat/bone/organ, 5% superfoods

PH Level: 6


Ca:P = 1.1
GUARANTEED ANALYSIS

Crude Protein: 45% minimum

Crude Fat: 22% minimum

Crude Fiber: 1.5% maximum

Moisture: 4.5% maximum
SUBSCRIBE AND SAVE 10%
Save time and money by signing up for a subscription. By choosing auto-ship you can save 10% on EVERY subscription order.
Buy 2 QUEST Sets, Get Free Shipping!
Freeze-Dried Cat Food Frequently Asked Questions
Do I need to rehydrate freeze-dried raw cat food?
Yes, we recommend to add 2 oz of warm water per 1/2 cup of cat food, and wait a couple minutes for the nuggets to completely rehydrate before feeding so your cat gets the necessary intracellular moisture from their meal.
How do I get started feeding raw cat food?
When starting your pet on a new food, you want to add in a little to start to avoid digestive upset, and then gradually increase the amount of raw and decrease the old food until you're on 100% new food.
Can I feed Quest freeze-dried to my dog?
You can use Quest to treat your dog, but we don't suggest to feed it daily.

How to feed freeze-dry cat food?
To serve a nutritious raw meal to your cat, simply use a measuring cup to portion out the food, add water and wait 5 minutes to rehydrate, then serve.
What if my cat doesn't like the freeze-dried raw cat food?
Some cats like raw food right away, and some felines can be finicky. If your cat doesn't take to raw right away, here are a few things to try:
Feed your cat at a specific time of day, and don't leave other food out.
Try to crumble some of the raw food on top of their current diet to get them to try it.
Try different proteins to see if they prefer one over another.
Rehydrate with something tantalizing such as bone broth, tuna juice, or raw goat milk.
Hide a few dry nuggets around the house for them to find as a tasty reward.
Play with your cat before mealtime to simulate a hunt.
Warm the liquid you use to rehydrate the food.
Feed cats from a plate, pet platter, or lick mat. Cats have sensitive whiskers and some don't like sticking their head in a bowl.
NUTRIENT BREAKDOWN
| | | |
| --- | --- | --- |
| Vitamins | Amount | |
| Vitamin A | 6875 | IU/kg |
| Vitamin D | 887 | IU/kg |
| Vitamin E | 181 | IU/kg |
| Thiamine (B1) | 9.8 | mg/kg |
| Riboflavin (B2) | 12.8 | mg/kg |
| Pantothenic Acid | 24.6 | mg/kg |
| Niacin (B3) | 156 | mg/kg |
| Pyridoxine (B6) | 4.8 | mg/kg |
| Folic Acid | 1.2 | mg/kg |
| Vitamin B12 | 1 | mg/kg |
| Choline | 4523 | mg/kg |
| Taurine | 0.5% | |
| Minerals | | |
| Ash | 6.3% | |
| Calcium | 1.3% | |
| Phosphorus | 1.6% | |
| Potassium | 0.7% | |
| Sodium | 0.3% | |
| Magnesium | 0.1% | |
| Iron | 90.8 | mg/kg |
| Copper | 5 | mg/kg |
| Manganese | 7.8 | mg/kg |
| Zinc | 64.6 | mg/kg |
For more information on the products or raw feeding, visit StevesRealFood.com