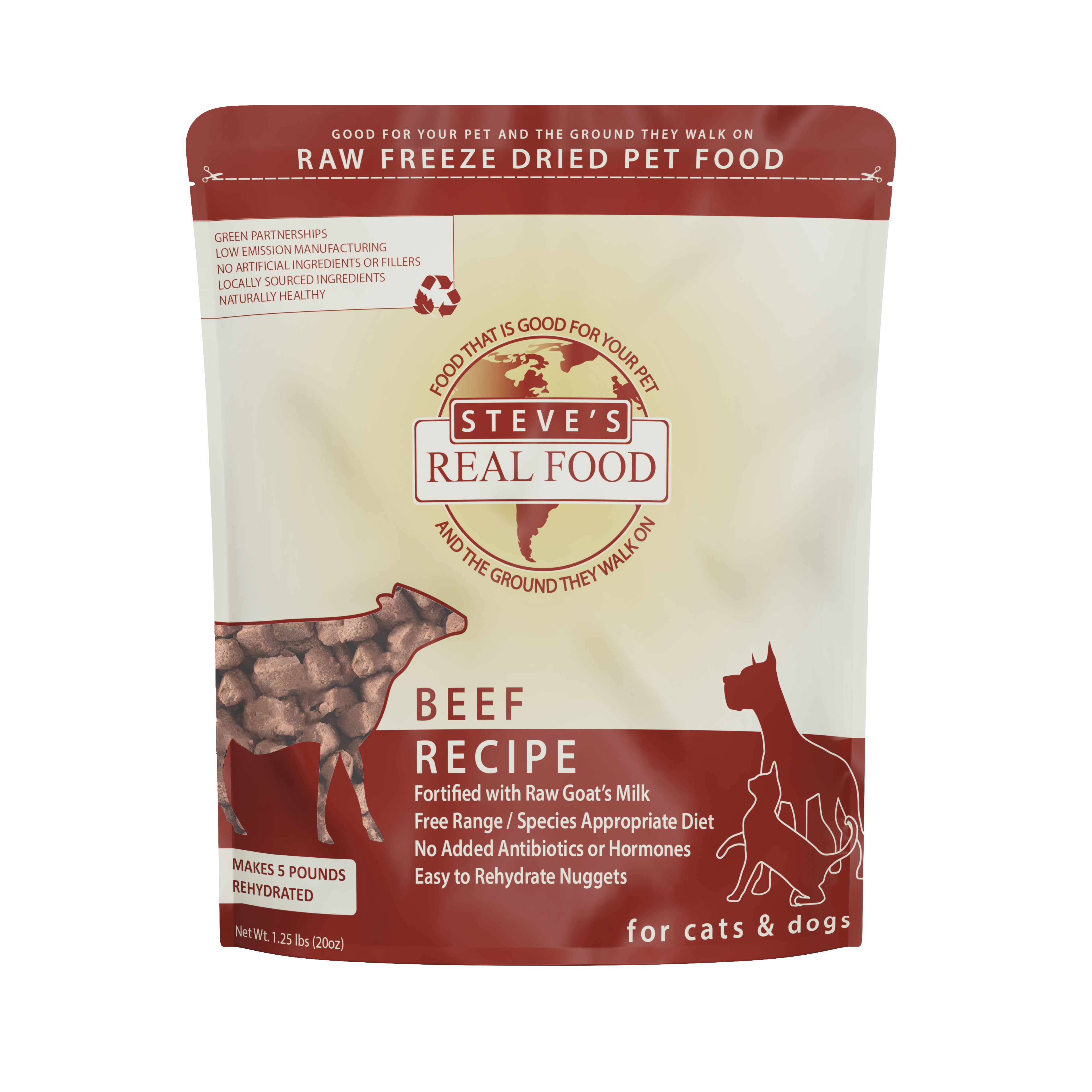 Freeze Dried Raw Pet Food: Beef Nuggets
PRODUCT DETAILS
Order 3 or more bags of freeze-dried and get FREE shipping! Add the food to a subscription for auto-delivery, and SAVE 10% off every order!
Pet owners love Steve's Real Food Beef Diet for the low-fat, nutrient dense, and lean muscle meat we use. Beef is particularly high in zinc and copper--two nutrients that work together to support the metabolism. In addition to the exceptional nutritional benefits of the meat, our Beef Diet contains unique ingredients, such as high-fiber apples, which provide a complete and balanced nutritional profile. Our meat-to-veggie ratio of 80% to 20% which gives your dog the proteins and essential vitamins and minerals that help fight disease and promote strong bones, muscles, and organ function.
Our complete and balanced beef diet for dogs and cats are made from grass-fed, grass-finished, antibiotic-free meats.
INGREDIENTS
Ground Beef, Beef Liver, Beef Kidney, Broccoli, Beef Bone, Carrots, Apples, Romaine Lettuce, Goat's Milk, Coconut Oil, Sesame Seeds, Salmon Oil, Flaxseed, Dried Kelp, Taurine, Green Lipped Mussel, Inulin, Ground Eggshell 
NUTRITIONAL FAST FACTS

Calories: 4920 per kg (139 per oz)

Calcium to Phosphate: 1.7:1

B.A.R.F Formulation

80% Meat/Organ/Bone 20% Produce

Carbohydrates: 2.2 %

PH Level: 6.4 S.U.
GUARANTEED ANALYSIS

Protein: 45.5% minimum

Fat: 31% minimum

Fiber: 3% maximum

Moisture: 5% maximum
SUBSCRIBE AND SAVE 10%
Save time and money by signing up for our subscription service. By choosing auto-ship you can save 10% on your pet's food
NUTRIENT BREAKDOWN
| | | |
| --- | --- | --- |
| Vitamins | Amount | |
| Vitamin A | 7320 | IU/kg |
| Vitamin D | 1250 | IU/kg |
| Vitamin E | 80 | IU/kg |
| Thiamine (B1) | 62.3 | mg/kg |
| Riboflavin (B2) | 18.2 | mg/kg |
| Pantothenic Acid | 44.1 | mg/kg |
| Niacin (B3) | 120 | mg/kg |
| Pyridoxine (B6) | 1.6 | mg/kg |
| Folic Acid | 0.5 | mg/kg |
| Vitamin B12 | 0.4 | mg/kg |
| Choline | 2013 | mg/kg |
| Taurine | 0.2% | |
| Minerals | | |
| Ash | 12% | |
| Calcium | 2.1% | |
| Phosphorus | 1.5% | |
| Potassium | 0.8% | |
| Sodium | 0.5% | |
| Magnesium | 0.13% | |
| Iron | 172 | mg/kg |
| Copper | 53.7 | mg/kg |
| Manganese | 7.8 | mg/kg |
| Zinc | 140 | mg/kg |
For more information on the products or raw feeding, visit StevesRealFood.com